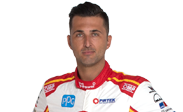 Birth Date:

July 28, 1980

Height:

188cm

Birth Place:

Burnley, England

Weight:

80kg

Residence:

Gold Coast, Queensland

Twitter:

@fabiancoulthard

Facebook:

@FabianCoulthard

Instagram:

@fabiancoulthard

Car:

Ford Mustang

Crew Chief:

Mark Fenning

Primary Sponsor:

Shell V-Power
Biography
Fabian Coulthard will compete in his fifth season for DJR Team Penske (DJRTP) in 2020 as he looks to continue his winning ways in the Virgin Australia Supercars Championship. Coulthard produced a pair of victories last season and helped the Shell V-Power Racing Team establish a new team record for victories in a season (20) while claiming its second series team title in the last three seasons.
Since he joined the DJRTP lineup in 2016, Coulthard has earned seven wins, three pole positions and 24 podium finishes. With a career-best averaging finishing position of 7.2 in 2019, Coulthard captured the first series pole of the season at Adelaide and he claimed back-to-back series victories with wins at Phillip Island and Perth. Running among the championship contenders throughout the season, Coulthard finished the year fourth in the driver's standings.
As he returns behind the wheel of the No. 12 Shell V-Power Ford Mustang in 2020, Coulthard will continue to work with race engineer Mark Fenning as the team competes for both the driver's and team championship this season.
British-Born and New Zealand raised, Coulthard started his career in karts before moving into Formula Ford in New Zealand. A trip to the Australian Grand Prix support races at Albert Park in 2002 opened the door for Coulthard, and he jetted to England to compete in Formula Renault.
He then joined the Porsche Carrera Cup, finishing third as the best rookie in 2004, before he was crowned series champion in 2005. Coulthard then signed to drive with Paul Morris Motorsports in the Virgin Australia Supercars Championship, sharing a car with Alan Gurr and Steve Ellery, in 2006 and 2007.