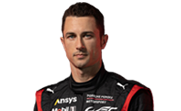 Birth Date:

October 18, 1988

Height:

5' 9"

Birth Place:

Newport Beach, Calif.

Weight:

160 lbs

Residence:

Huntersville, NC

Twitter:

@danecameron19

Facebook:

@danecameron19

Instagram:

@danecameron19

Car:

Acura Team Penske ARX-05 DPi

Race Engineer:

Jonathan Diuguid
Biography
Dane Cameron may have arrived at Acura Team Penske with less fanfare than his teammates, but the longtime racer is now the newest champion driver for Roger Penske as he and Juan Pablo Montoya captured the 2019 IMSA WeatherTech SportsCar Championship in the Daytona Prototype international (DPi) class. After helping establish a solid foundation for the future of the No. 6 Acura Team Penske ARX-05 Prototype in 2018, Cameron and Montoya scored three wins in 2019 while riding a streak of seven-consecutive podium finishes to claim the team's 11th sports car championship in its 54-year history.
Along the way, Cameron became the 51st driver to win a race for Roger Penske's racing organization when he and Montoya captured the checkered flag in the Acura Sports Car Challenge at the Mid-Ohio Sports Car Course in May of 2019. The duo of Cameron and Montoya will look to be the first team to win back-to-back IMSA WeatherTech DPi championships in five years when they return to the grid in 2020. Simon Pagenaud will continue as the No. 6 car's third driver for the Rolex 24 at Daytona, the 12 Hours of Sebring and Petit Le Mans endurance races.
Cameron joined the Acura Team Penske DPi program after three successful seasons with Action Express Racing, which included winning the 2016 IMSA Prototype Championship. Cameron was also the 2014 GT Daytona class champion, racing for Turner Motorsports. He began his career with Team Penske as the second-winningest driver since the merger of the American Le Mans Series (ALMS) and Grand-Am Rolex Sports Car Series, with 10 victories (overall and class) to his credit.